An original Cameo pencil drawing by Stephen Brown of a de Havilland Mosquito mounted with the authentic autograph of distinguished WW2 RAF Fighter Pilot Ace Branse Burbridge.
Wing Commander BRANSOME ARTHUR 'BRANSE' BURBRIDGE DSO* DFC*
Branse Burbridge joined the RAF in 1940 and completed his training within a year. He was posted to 85 Squadron, claiming one probable against enemy aircraft with a further aircraft damaged by the end of 1942. He was then posted to an Operational Training Unit as an instructor before spending a year as a staff officer. In July 1943 he had reached the rank of Flight Lieutenant. 
In June 1944 Operation Overlord and the Allied invasion of German occupied Europe began reopening the Western Front. Branse, together with his navigator Bill Skelton, flew a number of sorties as an intruder pilot with No. 100 Group over the front. He achieved a further two aerial victories with one probable and another damaged in combat in these operations. He also destroyed three V-1 flying bombs over southern England. 
In September 1944 85 Squadron returned to intruder missions over Germany and giving support to RAF Bomber Command. Branse was awarded a bar to his DFC in October 1944 and a DSO the following month. From September 1944 to January 1945, he claimed 13 enemy night fighter aircraft destroyed, including four in one night. In February 1945 both men were awarded a bar to their DSOs.
The two of them went on to shoot down 21 enemy aircraft - 16 during a seven-month period. The total included a Bf110 and three Ju88Gs during the night of 4-5 November 1944. Their officially credited 21 enemy aircraft destroyed made the pair the top night fighting crew in the whole of the RAF. Branse recalls, "I always tried to aim for the wings of enemy aircraft - and not the cockpit. I never wanted to kill anyone." The citations for their awards paid tribute to both men setting "an unsurpassed example of outstanding keenness and devotion to duty".
The original drawing, on archival quality toned paper with colour highlights, features an RAF Mosquito NF.11 night fighter and its two man crew.
The professionally cut double mount includes RAF wings on an engraved metal plate specially commissioned by ourselves.
This mounted ensemble will fit into a generally available, standard size 12 x 10 inch ready made frame. Or alternatively you can order it already fitted into a frame. More info on framing options.

This signature ensemble comes with its own unique illustrated Certificate of Authenticity printed on high quality A4 card stock and signed by the artist.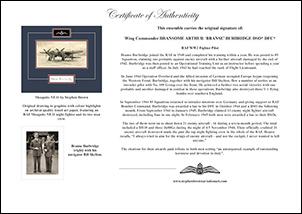 FREE - pack of 4 top quality aviation Christmas cards included.
12 x 10 inches (30 x 25 cm), approx 13.5 x 11.5 inches including frame.