Commissions
COMMISSIONS UPDATE: due to a lengthy backlog of work, new commissions for full size paintings cannot be taken on currently - it is possible that Cameo paintings and drawings can be accommodated though - contact us if you are interested.

Commission an Oil Painting
If you would like to own an original oil painting but you want to decide on the subject matter then it is possible to commission the artist to create something to your specification. Prices will vary depending on the size of the painting, the degree of detailing and the amount of research required by the artist. For an idea on the scope of prices the paintings for sale in the Originals section are a good guide.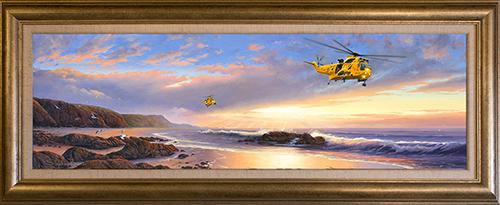 Royal Rescue Team - image 38 x 12 inches - oil on stretched canvas - private commission.
Another factor is whether the image is suitable for releasing as a print edition - if it is then this helps with the price. It is important to note that the copyright of the image automatically remains with the artist unless specifically agreed. If you would like to acquire the copyright as well then it may be possible to arrange this at extra cost.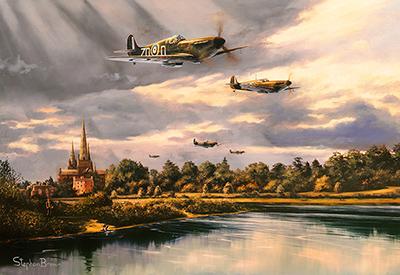 Lichfield 1940 - 20 x 16 inches - oil on stretched canvas - commissioned by a resident of Lichfield.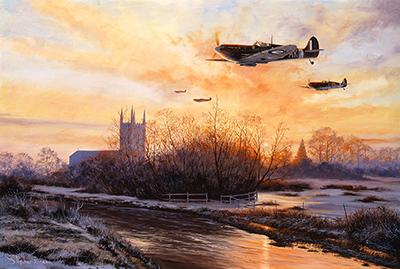 Dawn's First Light - 20 x 16 inches - oil on stretched canvas - one of several paintings commissioned by the RAF Charitable Trust Enterprises, the images being used on products created to raise money for the RAF charities.

Cameo Oil Paintings
These small, modestly priced works are an ideal way to start a collection of original oil paintings. They can be commissioned in the same way as a larger painting, in fact about half the Cameo oil paintings that you see on the web site were pre-reserved by collectors. Prices start as low as £275 and include professional framing so your artwork is ready to display.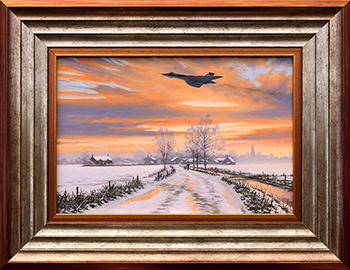 Lincolnshire Skies - image 13 x 9 inches - oil on board - private commission.
Commission an Original Drawing
A pencil drawing is an excellent way to acquire a piece of original artwork at a relatively modest cost. All originals have a standard double mount included in the price as well as a backing piece and a clear wrap, making them ideal to give as a gift as they are. Custom mounts can include regalia such as reproduction medals and pilot's wings, and even original aircrew signatures from the artist's personal collection. We can also supply them framed to your specification. Each drawing is accompanied by a Certificate of Authenticity signed by the artist.
For full size drawings prices start at around £135 but will depend on the amount of detail and the amount of research needed.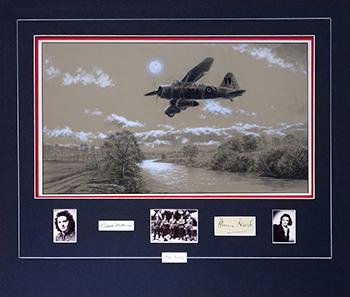 Behind Enemy Lines - Lysander SOE - image 18 x 12 inches - drawing on archival toned paper - commissioned by a specialist aviation art dealer.
Cameo Drawings
These are perfect for a small display or as a gift for an aviation enthusiast - they are supplied double mounted and with a Certificate of Authenticity - prices start at just £55.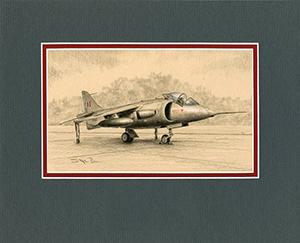 Hawker P.1127 - Harrier Prototype - image 7 x 4 inches - drawing on toned archival paper - private commission.


Cameo Deluxe Drawings
A little larger in size allowing more detail and more flexibility in composition - prices start at £85.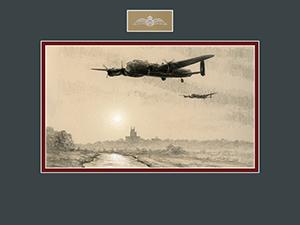 Lancasters Over Lincolnshire - image 11 x 6.5 inches - drawing on toned archival paper - private commission.

In most cases Cameo oils and all drawings are completed on a 'first-refusal' basis - if you like the finished artwork then its yours, if its not what you imagined then you can pass on it and it will go up for general sale. The only provisos are that the specification is quite broad and that the subject is 'commercial' in nature i.e. its an image that should be easy for us to sell in the event you decide not to take up your option on it.
Your Own Limited Edition Print Run
We can offer packages that include your own limited edition prints for private use as part of the commission. Produced to the same fine art standards as the publicly available prints, you can specify a run of as little as 10 prints. A great idea for Associations, fund raising or simply as unique presents to give to your friends and family.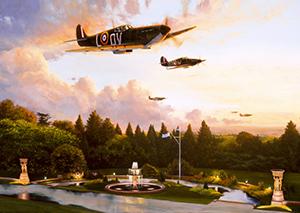 The Storm Has Passed - large size original oil painting commissioned by RAF Bentley Priory to commemorate victory in the Battle of Britain. A private print run was used to create additional funds for the Mess Committee and help offset the original cost of the painting. The prints were ordered only as they were needed so there was only a small initial capital outlay.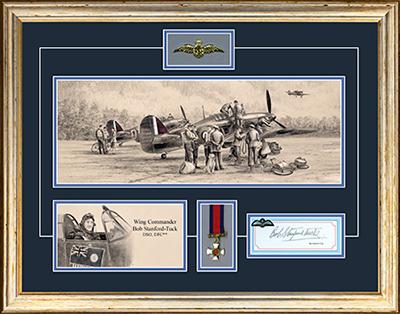 Bob Stanford-Tuck - pair of drawings on toned archival paper - commissioned by the Military Signature Archive to create a limited edition set of original signature ensembles.