An original Cameo pencil drawing by Stephen Brown of an RAF Vulcan mounted with the authentic autograph of distinguished RAF Bomber Pilot Don Briggs.
Flight Lieutenant DONALD BRIGGS DFC
During World War Two Don flew 62 ops as Flight Engineer on Lancasters of 156 Pathfinder Squadron. After the war he qualified as a pilot and flew all three types of V-Bomber operationally. His many important missions included the operation that dropped the third and last Atom bomb on Christmas Island. In a long and distinguished career Don flew 49 of the 89 Vulcan B2s that entered service, including the famous Vulcan XH558.
The original drawing, on archival quality toned paper with colour highlights, features an RAF Vulcan B2 landing in heavy weather.
The professionally cut double mount includes RAF wings.
This mounted ensemble will fit into a generally available, standard size 12 x 10 inch ready made frame. Or alternatively you can order it already fitted into a frame. More info on framing options.

This signature ensemble comes with its own unique illustrated Certificate of Authenticity printed on high quality A4 card stock and signed by the artist.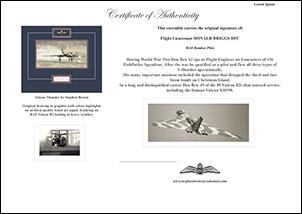 FREE - pack of 4 top quality aviation Christmas cards included.
12 x 10 inches (30 x 25 cm), approx 13.5 x 11.5 inches including frame.