An original Cameo pencil drawing by Stephen Brown of a 617 Squadron Dambuster Lancaster mounted with the authentic autograph of distinguished WW2 Dambuster Fred Sutherland.
Sergeant FREDERICK EDWIN SUTHERLAND
Born in Alberta in 1923, Fred Sutherland joined the Royal Canadian Air Force (RCAF) in July 1941. Having undergone his initial training in Canada, he volunteered for the role of air gunner and was sent to the UK and posted to No. 7 Air Gunnery School at RAF Stormy Down and subsequently to 14 OTU at RAF Cottesmore. It was here that he became a member of a crew commanded by Les Knight, which saw them converting onto the Vickers Wellington and subsequently the Avro Manchester.
In September 1942 Knight's crew converted onto the Lancaster, following which they were posted to 50 Squadron at RAF Waddington. During his time with 50 Squadron, Fred flew 25 operations which saw them carrying out a wide variety of raids on such targets as Hamburg, Essen and Stuttgart as well as crossing the Alps in order to carry out a raid on Turin.
In March 1943, Les Knight's crew was selected for a new elite and highly secret bomber squadron. Initially known as Squadron X it was subsequently renamed No. 617 Squadron and was based at RAF Scampton. Following a period of intensive training the crew took part in the daring raid against the Ruhr dams on the night of 16/17 May 1943. Using a unique cylindrical bouncing bomb designed by Barnes Wallis, nineteen Lancaster crews headed for the Mohne, Eder and Sorpe dams in Germany. Fred Sutherland flew with Les Knight's crew in Lancaster AJ-N, they dropped the bomb that finally breached the Eder Dam. The raid was a success with Germany's industrial heartland flooded causing great disruption to their war effort. The mission and the crews became the legend that is the Dambusters.
Further challenging special missions followed for 617 Squadron. Fred's final mission was on the night of 15/16 September 1943, when he took part in the raid on the Dortmund-Ems Canal. Code-named Operation Garlic, the raid was tasked with severing a vital stretch of the canal to let water out onto the flatter lower plains, and as had been the case with the earlier Ruhr dams raid, the sortie required precision low flying to be carried out by the squadron. As a consequence of striking the tops of some trees, the aircraft sustained damage and crashed. Les Knight was tragically killed but he ensured that the crew had time to bail out. Fred managed to evade capture and with the help of the Dutch Resistance eventually made it back the the UK some two months later.
His experiences and knowledge of the resistance members and the methods they used to evade detection meant he would never be allowed to fly over enemy territory again, this was security policy for any airman in these circumstances and he consequently had to leave 617 Squadron. He returned to Canada and saw out the rest of his service as a gunnery instructor.
The original drawing, on archival quality toned paper with colour highlights, features a 617 Squadron Lancaster low over Holland en-route to the Ruhr dams on the night of 16/17 May 1943.
The professionally cut double mount includes RAF wings on an engraved metal plate specially commissioned by ourselves.
This mounted ensemble will fit into a generally available, standard size 12 x 10 inch ready made frame. Or alternatively you can order it already fitted into a frame. More info on framing options.

This signature ensemble comes with its own unique illustrated Certificate of Authenticity printed on high quality A4 card stock and signed by the artist.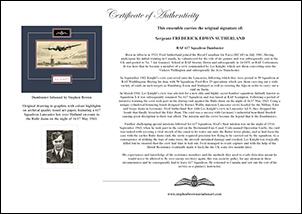 FREE - pack of 4 top quality aviation Christmas cards included.
12 x 10 inches (30 x 25 cm), approx 13.5 x 11.5 inches including frame.