An original Cameo pencil drawing by Stephen Brown of a pair of RAF Mosquitos mounted with the authentic autograph of distinguished WW2 RAF Pilot Geoff Perks.
Flight Lieutenant GEOFFREY DERRY PERKS DFC
Geoffrey Perks was in a reserved occupation and unable to be released to join the RAFVR until July 1941. He was then sent by convoy to the USA, via Canada, for pilot training by the US Army Air Corps in Alabama and Georgia. In January 1943 he joined 420 RCAF Squadron, initially flying Vickers Wellington bombers before converting to Halifaxes in April. He spent a short time with 427 RCAF Squadron before joining 434 Squadron, a new RCAF squadron in 6 Group. On completion of his tour he was posted to undergo a pilot instructor's course and returned to 1666 HCU Group in December for instructional duties until the end of 1944.
Geoff then volunteered to fly Mosquitoes in 8 Group and flew with 571 Light Night Strike Force Squadron from mid-March 1945, completing a further thirteen operations including eight to Berlin, the last was to Munich on the 25th April 1945.
The original drawing, on archival quality toned paper with colour highlights, features a pair of RAF Mosquitos sweeping out low over the Cambridgeshire countryside towards the North Sea. In the background is the unmistakeable landmark that is Ely Cathedral.
The professionally cut double mount includes RAF wings on an engraved metal plate specially commissioned by ourselves.
This mounted ensemble will fit into a generally available, standard size 12 x 10 inch ready made frame. Or alternatively you can order it already fitted into a frame. More info on framing options.

This signature ensemble comes with its own unique illustrated Certificate of Authenticity printed on high quality A4 card stock and signed by the artist.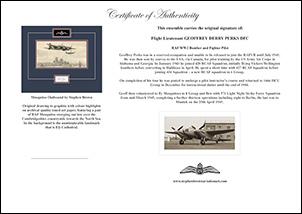 FREE - pack of 4 top quality aviation Christmas cards included.
12 x 10 inches (30 x 25 cm), approx 13.5 x 11.5 inches including frame.