An original Cameo pencil drawing by Stephen Brown of a Battle of Britain Spitfire mounted with the authentic autograph of distinguished WW2 RAF Fighter Pilot Ace Geoff Wellum.
Squadron Leader GEOFFREY WELLUM DFC
In August 1939, aged eighteen, Geoffrey Wellum signed up on a short-service commission with the Royal Air Force. The first aircraft he flew was the Tiger Moth at Desford airfield in Leicestershire; after successfully completing the course he then went on to fly the North American Harvard at RAF Little Rissington with 6FTS.
In May 1940 he was posted directly to 92 Squadron, flying Spitfires and saw extensive action during the Battle of Britain. His first commanding officer was Roger Bushell, (later immortalised in The Great Escape) and his close colleagues included Brian Kingcome. He claimed a Heinkel He111 shot down on 11 September and a quarter share in a Junkers Ju88 downed on 27 September 1940. Two (and one shared) Messerschmitt Bf109s were claimed 'damaged' during November 1940. A Bf109 was claimed shot down on 9 July 1941 over France.
In February 1942 he was transferred to 65 Squadron based at Debden, being appointed a Flight Commander in March 1942. On 11 August 1942, Geoff led eight Spitfires launched from the carrier HMS Furious to reinforce the fighter complement at Luqa airfield on Malta. Here he joined 145 Squadron on air defence duties. Three years of intensive front line flying took their toll on Geoff's health and in 1943 he was posted back to Britain, becoming a test pilot on the Hawker Typhoon based at Gloster Aircraft. He is also well known for his best selling book First Light, an evocative memoir recounting his time with the RAF.
The original drawing, on archival quality toned paper with colour highlights, features an RAF Spitfire Mk Ia in between sorties during the Battle of Britain, summer 1940.
The professionally cut double mount includes RAF wings on an engraved metal plate specially commissioned by ourselves.
This mounted ensemble will fit into a generally available, standard size 12 x 10 inch ready made frame. Or alternatively you can order it already fitted into a frame. More info on framing options.

This signature ensemble comes with its own unique illustrated Certificate of Authenticity printed on high quality A4 card stock and signed by the artist.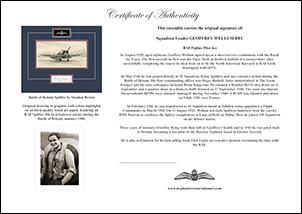 FREE - pack of 4 top quality aviation Christmas cards included.
12 x 10 inches (30 x 25 cm), approx 13.5 x 11.5 inches including frame.