A special collector's autograph edition paying tribute to legendary Luftwaffe night fighter pilot Martin Drewes and carrying his original signature.

Artwork by Stephen Brown
Small exclusive print edition taken from a highly detailed drawing on sepia toned paper, featuring pilots and ground crew gathered around Messerschmitt Me110G4s at an airfield in northern Germany in 1944. The aircraft are fitted with the distinctive first generation Fug 220 Lichtenstein radars plus additional centrally mounted Fug 202 short range arrays and belong to NJG1, the Luftwaffe's top night fighter unit. By the evening these skilled night fighter crews will be climbing into the skies to await the arrival of the inevitable RAF bomber formations.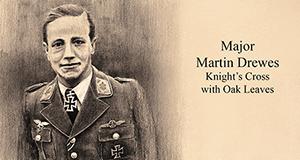 Major MARTIN DREWS  Knight's Cross with Oak Leaves
Martin Drewes was an experienced Messerschmitt Me110 pilot, having started his combat career with ZG76 operating in the Balkans. It was though, when he switched to the night fighter variants for NJG1 that he really started to excel. Flying one of the most difficult forms of air combat, primarily against the RAF bomber forces in the deadly night skies over Europe, Martin Drewes built a reputation as a highly skilled night fighter pilot. The vast majority of Martin Drewes 49 aerial victories were achieved at night and he was awarded the Knight's Cross in recognition of his part in the Defence of the Reich operations. For the last 15 months of the war Martin Drewes was Kommandeur of III./NGJ1 - the Luftwaffe's crack night fighter unit.
Issued as a highly restricted limited edition of just 15, this beautifully presented autograph display includes metal Luftwaffe eagle wings, a miniature replica Knight's Cross medal, two pieces of artwork by Stephen Brown and of course the original signature of Major MARTIN DREWS  Knight's Cross with Oak Leaves.
This mounted ensemble will fit into a generally available, standard size 16 x 12 inch ready made frame. Or alternatively you can order it already fitted into a frame. More info on framing options.



Exclusive to us - this signature ensemble comes with a free, high quality, printed information sheet and a detailed pilot bio - particularly useful if you are giving the ensemble as a gift.

FREE - pack of 4 top quality aviation Christmas cards included.
16 x 12 inches (40 x 30 cm), 17.5 x 13.5 inches including frame.