A special collector's autograph edition paying tribute to legendary RAF pilot Bob Stanford-Tuck and carrying his original signature. 

Artwork by Stephen Brown
Small exclusive print edition taken from a highly detailed drawing on sepia toned paper featuring pilots and ground crew gathered around RAF Hawker Hurricanes of 257 Squadron during the Battle of Britain, 1940. The pilots will get some brief moments of respite before being scrambled again to intercept incoming Luftwaffe aircraft.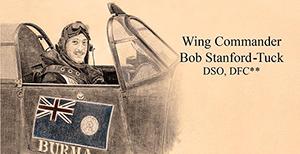 Wing Commander BOB STANFORD-TUCK  DSO DFC**
Flying a Spitfire with 92 Squadron, Bob Stanford-Tuck destroyed an Me109 and two Me110 enemy fighters over Dunkirk on his first day in combat. It was a portent of what was to come. The swashbuckling, debonair Stanford-Tuck became one of the top scoring Aces in the Battle of Britain, a darling of the Press and a household name right across Britain. At the height of the battle, in mid-summer 1940, Stanford-Tuck was given command of 257 Hurricane Squadron which he led with great panache until mid-1941. Returning to fly his beloved Spitfire, he took command of the Wing at Duxford, later leading Biggin Hill's famous Spitfire Wing. With a tally of 29 victories, in January 1942 Bob Stanford-Tuck's luck ran out when he was shot down by ground fire at low-level over Northern France. He survived, was taken prisoner and spent the rest of the war as a POW.
Issued as a highly restricted edition of just 15, this beautifully presented autograph display includes metal RAF wings, a miniature replica DSO medal, two pieces of artwork by Stephen Brown and of course the original signature of Wing Commander BOB STANFORD-TUCK  DSO DFC**.
This mounted ensemble will fit into a generally available, standard size 16 x 12 inch ready made frame. Or alternatively you can order it already fitted into a frame. More info on framing options.



Exclusive to us - this signature ensemble comes with a free, high quality, printed information sheet and a detailed pilot bio - particularly useful if you are giving the ensemble as a gift.

FREE - pack of 4 top quality aviation Christmas cards included.
16 x 12 inches (40 x 30 cm), 17.5 x 13.5 inches including frame.