A special collector's autograph edition paying tribute to legendary USAAF pilot Robin Olds and carrying his original signature.


Artwork by Stephen Brown
Small exclusive print edition taken from a highly detailed drawing on sepia toned paper featuring pilots and ground crew gathered around P-51D Mustangs of the 434th Fighter Squadron, 479th Fighter Group at Wattisham Airfield in the autumn of 1944.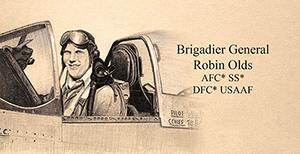 Brigadier General ROBIN OLDS  USAAF AFC SS DFC DFC(UK)
Robin Olds arrived in Europe joining the 479th Fighter Group in May 1944 flying Lightning P-38Js and Mustang P-51Ds. He became an Ace within 12 weeks of his arrival and by the end of the war, now commanding the 434th's  P-51 Mustangs, he had flown over 100 missions and scored 24 victories, 13 in air-to-air combat.
Years later, during the war in Southeast Asia where he completed 152 combat missions, Olds flew McDonnell Douglas F-4C and D model Phantoms on some of the most gruelling missions of the war – including his famous 'MiG Sweep'. The citation for the third Oak Leaf Cluster to his Silver Star was awarded for "exemplary airmanship, extraordinary heroism and indomitable aggressiveness" in the epic low-level bombing raid on the Thai Ngyen steel mill blast furnaces. He was later was awarded the Air Force Cross for his part in the famous Paul Doumier Bridge raid.
This mounted ensemble will fit into a generally available, standard size 16 x 12 inch ready made frame. Or alternatively you can order it already fitted into a frame. More info on framing options.



Exclusive to us - this signature ensemble comes with a free, high quality, printed information sheet and a detailed pilot bio - particularly useful if you are giving the ensemble as a gift.

FREE - pack of 4 top quality aviation Christmas cards included.
16 x 12 inches (40 x 30 cm), 17.5 x 13.5 inches including frame.