An original Cameo pencil drawing by Stephen Brown of an Me109G-2 on the Eastern Front mounted with the authentic autograph of legendary WW2 Luftwaffe Fighter Pilot Ace Gunther Rall.
Generalleutnant GUNTHER RALL Knight's Cross with Oak Leaves and Swords
The third highest scoring fighter pilot in history, Gunther Rall is considered by many to have been the Luftwaffe's most accomplished and bravest fighter ace. Flying the magnificent Me109 fighter throughout the war Rall saw action on almost every front from the Battle of Britain to the final Defence of the Reich.
After achieving 250 victories on the Eastern Front, during which time he commanded JG52, the Luftwaffe's most successful unit, Rall was posted back to the Western Front. There he flew high altitude interceptions against the USAAF's daylight raids in a specially equipped Me109G. During one dogfight he had his left thumb shot off the throttle when brought down by one of the Zemke P-47s. In 621 combat missions he was shot down eight times, severely wounded three times and, but for long periods in hospital, he may have far exceeded his tally of 275 air victories. This jovial, well liked fighter pilot rejoined the new Luftwaffe after the war, ultimately becoming its Chief of Staff.
The original drawing, on archival quality toned paper with colour highlights, features the III. /JG52 Me109 G-2 of Gunther Rall on the Eastern Front in 1942.
The professionally cut double mount includes Luftwaffe wings on an engraved metal plate specially commissioned by ourselves.
This mounted ensemble will fit into a generally available, standard size 12 x 10 inch ready made frame. Or alternatively you can order it already fitted into a frame. More info on framing options.

This signature ensemble comes with its own unique illustrated Certificate of Authenticity printed on high quality A4 card stock and signed by the artist.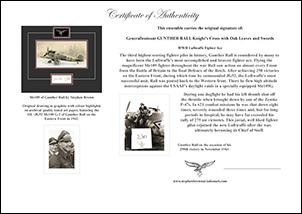 FREE - pack of 4 top quality aviation Christmas cards included.
12 x 10 inches (30 x 25 cm), approx 13.5 x 11.5 inches including frame.