An original Cameo pencil drawing by Stephen Brown of a RAF Hawker Typhoon mounted with the authentic autographs of two distinguished WW2 RAF Typhoon Fighter Pilots, Tony Hallett and Derek Lovell.
Flying Officer TONY 'TITCH' HALLETT DFC
Joined the RAF in 1941 and after initial training in the USA, returned to the UK for conversion to Hurricanes. He was then posted to an Army Co-operation Unit in Northern Ireland where he gained valuable experience flying various types of aircraft including the Defiant, Lysander, Hurricane, Martinet and Oxford, before ultimately converting to the new Typhoon. After conversion he joined 198 Squadron, a unit that specialised in ground attack operations using Typhoons fitted with highly potent 60lb RP-3 rockets.
With 198 Squadron Tony operated from several bases in southern England, including Thorney Island on D-Day and then from several temporary airfields in France and Belgium as the Allies moved eastwards across northern Europe. His missions during the build up to D-Day consisted mainly of attacking the many strongly defended radar stations from Ostend to Cherbourg and on two occasions changing from rockets to bombs for attacks on Noball targets (flying bomb sites). After D-Day 198 Squadron operated with close Army support, taking out gun positions, attacking tanks and basically destroying anything that moved in enemy territory all in the face of very heavy flak. Tony completed in excess of 100 sorties and was awarded the DFC.
Flight Lieutenant DEREK LOVELL
Volunteered for the RAFVR in 1941 and trained initially in Canada on Tiger Moths and Oxfords. He received his wings in April 1942 and was posted to Central Flying School. Following graduation, he taught Fleet Air Arm trainees on Harvards. He returned to the UK in March 1943 and flew Masters at AFU and Hurricanes at OTU. He taught Lancaster crews fighter evasion prior to posting to 84 Ground Support Unit to fly Typhoons.
He subsequently joined 197 Squadron at Needs Oar Point in the New Forest in June 1944 and was involved in close support operations and tactical dive bombing and low level ground attack throughout D-Day and the Normandy campaign and on through to VE-Day. He completed 135 operations and in August 1945 was posted to an OTU to instruct on Typhoons and Tempest Vs.

The original drawing, on archival quality toned paper with colour highlights, features an RAF Typhoon Mk Ib armed with RP-3 rockets in readiness for its next mission in support of the D-Day landings.
The professionally cut double mount includes RAF wings on an engraved metal plate specially commissioned by ourselves.
This mounted ensemble will fit into a generally available, standard size 12 x 10 inch ready made frame. Or alternatively you can order it already fitted into a frame. More info on framing options.

This signature ensemble comes with its own unique illustrated Certificate of Authenticity printed on high quality A4 card stock and signed by the artist.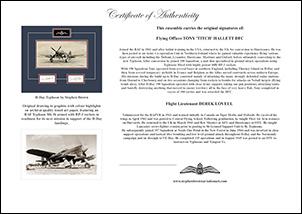 FREE - pack of 4 top quality aviation Christmas cards included.
12 x 10 inches (30 x 25 cm), approx 13.5 x 11.5 inches including frame.