An original Cameo pencil drawing by Stephen Brown of a Ju87 Stuka mounted with the authentic autograph of WW2 Luftwaffe Stuka and Fw190 Pilot Hans Klaus.
Oberleutnant JOHANN 'HANS' KLAUS
Oblt Johann 'Hans' Klaus flew a total of 652 missions across a number of campaigns while assigned to Sturzkampfgeschwader 1 (Stg-1), a specialist dive bomber wing that exclusively operated the Ju87 Stuka. He was accredited with destroying 65 tanks, 10 trains, 5 rocket launchers and 37 guns. He then flew a further 150 missions flying Fw190s with Schlachtgeschwader 1 (SG 1) on the Eastern Front, achieving 2 victories. He was taken prisoner on 20 October, 1944 when his Fw190 was brought down by flak over Soviet territory - he was not released until October 1949.
The original drawing, on archival quality toned paper with colour highlights, features a Junkers Ju87 B-2 Stuka dive bomber over the Eastern Front searching for targets of opportunity.
The professionally cut double mount includes Luftwaffe wings on an engraved metal plate specially commissioned by ourselves.
This mounted ensemble will fit into a generally available, standard size 12 x 10 inch ready made frame. Or alternatively you can order it already fitted into a frame. More info on framing options.

This signature ensemble comes with its own unique illustrated Certificate of Authenticity printed on high quality A4 card stock and signed by the artist.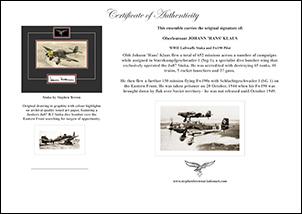 FREE - pack of 4 top quality aviation Christmas cards included.
12 x 10 inches (30 x 25 cm), approx 13.5 x 11.5 inches including frame.