An original Cameo pencil drawing by Stephen Brown of an RAF Lightning F.6, mounted with the authentic autographs of three RAF Lightning veterans:
Wing Commander JAMES LEONARD DELL OBE
Joined the RAF in 1942 and by 1944 he had already become a Flying Instructor for advanced trainers. After the war he performed various training and test flying roles on aircraft such as Spitfires, Meteors, Venoms and Hunters. He also led test flight teams to the USA and France to work on aircraft such as the F-100, F-104, F-105, F-106, Mystere 4 and Mirage 3. 
In 1960 he joined English Electric on the Lightning development programme, becoming Chief Test Pilot from 1961 to 1970. Jimmy also worked during that time on the TSR.2 programme, flying 12 of the aircraft's 24 test flights, he was one of only three pilots ever to fly this innovative aircraft. He later worked on the Anglo-French Jaguar programme and finally became Director, Flight Operations with responsibility for all Tornado test flight activities across the three participating countries. 
Flight Lieutenant PETER BOOTHROYD
Joined the RAF in 1964 and after three years of training was assigned to 23 Squadron at RAF Leuchars. At just 20 years old he was regularly flying Lightning F3 and F6 aircraft. A subsequent posting to 11 Squadron at RAF Binbrook flying Lightnings lasted until 1975 followed by a posting to 92 Squadron based at Gutersloh, Germany, operating Lightning F2A aircraft until the withdrawal of the Lightning from 2 ATAF in May 1977. There followed a number of instructor roles and a posting to RAF Valley on the Hawk aircraft in 1989. In 1993 he undertook a secondment to the Sultan of Oman's Air Force (RAFO) to teach Omani students to fly the Strikemaster and their then newly acquired BAe Hawks. In his long distinguished career he accumulated a total of about 7000 flying hours which included 2400 on the Lightning and 2000 on the Hawk.

Flight Lieutenant GEORGE FENTON
Joined the RAF as a cadet in 1966 and did his initial training at RAF College Cranwell. As a Lightning pilot he spent several years with 29 and 11 Squadrons. In 1975 he converted to the F-4 Phantom and flew with 892 Naval Air Squadron aboard HMS Ark Royal, before returning to the RAF with 29 Squadron. In 1980 he was assigned to RAF Chivenor as an instructor on the Hawk and remained there as a QWI until retirement from the service in 1985. He spent the next few years instructing in the middle east, first in Qatar then in Saudi Arabia. Returning to the UK in 1999 he joined the instructional staff at the BAe Systems operated Hawk simulator at RAF Valley.
The original drawing, on archival quality toned paper with colour highlights, features an English Electric Lightning F.6 of 11 Squadron. The Lightning first flew in 1954 and went on to provide the back bone of Britain's front-line defence until well into the 1970's
The professionally cut double mount includes RAF wings.
This mounted ensemble will fit into a generally available, standard size 12 x 10 inch ready made frame. Or alternatively you can order it already fitted into a frame. More info on framing options.

This signature ensemble comes with its own unique illustrated Certificate of Authenticity printed on high quality A4 card stock and signed by the artist.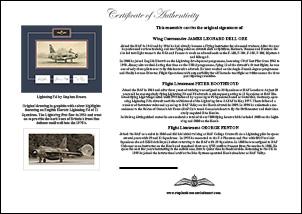 FREE - pack of 4 top quality aviation Christmas cards included.
12 x 10 inches (30 x 25 cm), approx 13.5 x 11.5 inches including frame.