An original Cameo pencil drawing by Stephen Brown of an RAF Lightning F.3, mounted with the authentic autographs of two RAF Lightning veterans:
Wing Commander JAMES LEONARD DELL OBE
A senior Flying Instructor during WW II who became famous for his work as a test pilot on both the English Electric Lightning and BAC TSR.2 development programmes. He subsequently played key roles on both the Anglo-French Jaguar and the Panavia Tornado projects.
Squadron Leader CHRIS TAYLOR MBE
A distinguished 27 year RAF career included completing the lightning OCU at RAF Coltishall before joining 56(F) Sqn at RAF Akrotiri in Cyprus. A natural ability to train others led to him being selected for a number of important instructor roles, primarily on the Folland Gnat in the early days then subsequently the BAE Hawk.
The original drawing, on toned paper with colour highlights, features an English Electric Lightning F.3 of 56 Squadron.
During the early 1960s many Lightning squadrons gave their aircraft colourful paint schemes, none was more striking than 56 Squadron (The Firebirds), who in 1963 doubled as the official RAF display team. Capable of Mach 2 in level flight, the Lightning provided the backbone of Britain's front-line Cold War defence until well into the 1970s.
The professionally cut double mount includes RAF wings.
This mounted ensemble will fit into a generally available, standard size 12 x 10 inch ready made frame. Or alternatively you can order it already fitted into a frame. More info on framing options.

This signature ensemble comes with its own unique illustrated Certificate of Authenticity printed on high quality A4 card stock and signed by the artist.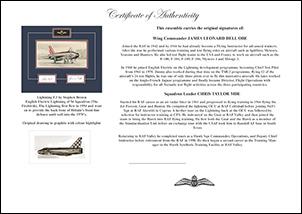 FREE - pack of 4 top quality aviation Christmas cards included.
12 x 10 inches (30 x 25 cm), approx 13.5 x 11.5 inches including frame.