An original Cameo pencil drawing by Stephen Brown of a BAC TSR.2 mounted with the authentic autograph of legendary RAF test pilot Jimmy Dell.
Wing Commander JAMES LEONARD DELL OBE
Joined the RAF in 1942 and by 1944 he had already become a Flying Instructor for advanced trainers. After the war he performed various training and test flying roles on aircraft such as Spitfires, Meteors, Venoms and Hunters. He also led test flight teams to the USA and France to work on aircraft such as the F-100, F-104, F-105, F-106, Mystere 4 and Mirage 3.
In 1960 he joined English Electric on the Lightning development programme, becoming Chief Test Pilot from 1961 to 1970. Jimmy then worked on the TSR.2 programme, flying 12 of the aircraft's 24 test flights, he was one of only three pilots ever to fly this innovative aircraft. He later worked on the Anglo-French Jaguar programme and finally became Director, Flight Operations with responsibility for all Tornado test flight activities across the three participating countries. 
The original drawing, on archival quality toned paper with colour highlights, features BAC TSR.2 prototype XR219.
The TSR.2 project was a technical triumph for its designers and engineers and is one of the most significant milestones in British aviation history. Created against the backdrop of the Cold War the TSR.2 was primarily designed to breach enemy defences by flying very fast and very low and then hitting high-value targets with either nuclear or conventional payloads. Its combination of stable handling at low altitude and high speed coupled with advanced terrain-following radar, sophisticated navigation system and all-weather capability far out performed any other aircraft in service at the time. In fact no aircraft before or since the TSR.2 has been designed to fly so low, so fast. Sadly the project fell victim to massive bureaucracy and the politics of the day and was ultimately cancelled before the aircraft could see service. In all seven prototypes were built but only XR219 ever made it into the air.
The professionally cut double mount includes RAF wings.
This mounted ensemble will fit into a generally available, standard size 12 x 10 inch ready made frame. Or alternatively you can order it already fitted into a frame. More info on framing options.

This signature ensemble comes with its own unique illustrated Certificate of Authenticity printed on high quality A4 card stock and signed by the artist.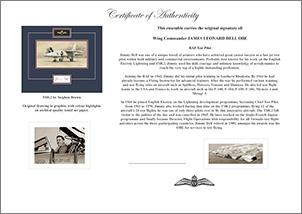 FREE - pack of 4 top quality aviation Christmas cards included.
12 x 10 inches (30 x 25 cm), approx 13.5 x 11.5 inches including frame.