An original Cameo pencil drawing by Stephen Brown of an RAF Coastal Command Catalina flying boat mounted with the authentic autograph of distinguished WW2 RAF flying boat specialist pilot Flight Lieutenant JOHN CRUICKSHANK VC.
Flight Lieutenant JOHN ALEXANDER CRUICKSHANK VC
John Cruickshank joined the Territorial Army in April 1939 and was mobilized for active service at the outbreak of World War II. In July 1941 he transferred to the RAF for aircrew duties, undergoing pilot training with the US Navy at Pensacola, Florida and gaining his pilot's wings in June 1942. Following a short period with RAF Ferry Command in Canada and further operational training in the UK he joined 210 Squadron based at Pembroke Dock, South Wales and later Poole Bay, Dorset. As captain of a Catalina flying boat, he carried out anti U-boat patrols in the Bay of Biscay and the Eastern Atlantic Ocean until December 1943. During this period, he also undertook a detachment to Gibraltar for similar duties.
In early 1944 elements of his squadron were moved to Sullom Voe in the Shetland Islands for anti U-boat duties and general maritime reconnaissance in northern waters. In mid July 1944, while on an anti U-boat patrol west of the Lofoten Islands, they sighted and attacked a surfaced German U-boat. During the attack the aircraft received extensive damage from the U-boat's armaments, they also suffered serious crew casualties, but despite that John pressed home the attack until the U-boat was sunk. He was hit in seventy-two places, with two serious wounds to his lungs and ten penetrating wounds to his lower limbs. Despite this, he refused medical attention until he was sure that the appropriate radio signals had been sent and the aircraft was on course for its home base. Even then he refused morphine, aware that it would cloud his judgement. Flying through the night, it took the damaged Catalina five and a half hours to return to Sullom Voe, with co-pilot Flight Sergeant Garnett at the controls and John lapsing in and out of consciousness in the back. John then returned to the cockpit and took command of the aircraft again, deciding that the light and the sea conditions for a water landing were too risky for the inexperienced Garnett to put the aircraft down safely. He kept the flying boat in the air circling for an extra hour until he considered it safer, he then landed the Catalina on the water and taxied to an area where it could be safely beached. For his outstanding courage he was awarded the Victoria Cross.
Following this episode, John became 'tour expired' and moved to Staff Duties at Coastal Command HQ. He left active service in early 1946.
The original drawing, on archival quality toned paper with colour highlights, features an RAF Catalina of 210 Squadron over the west coast of Scotland in 1944. The Consolidated Catalina PBY-5 proved invaluable to the RAF in its efforts to defend vital convoys from the threat of enemy submarines, particularly during the Battle of the Atlantic.
The professionally cut double mount includes metal RAF wings and a miniature replica VC medal.
This mounted ensemble will fit into a generally available, standard size 12 x 10 inch ready made frame. Or alternatively you can order it already fitted into a frame. More info on framing options.

This signature ensemble comes with its own unique illustrated Certificate of Authenticity printed on high quality A4 card stock and signed by the artist.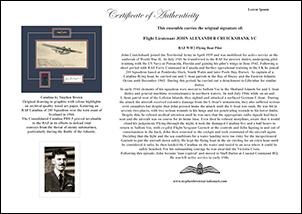 FREE - pack of 4 top quality aviation Christmas cards included.
12 x 10 inches (30 x 25 cm), approx 13.5 x 11.5 inches including frame.