An original Cameo pencil drawing by Stephen Brown of an RAF Mosquito FB.VI mounted with the authentic autographs of distinguished WW2 RAF navigators Tom Bennett and Des Curtis.
Squadron Leader THOMAS BENNETT DFM
Tom Bennett initially trained as a wireless operator/air gunner before becoming a navigator. Joining 49 Squadron he flew Lancaster bombing missions against a variety of targets. In April 1944 Bennett teamed up with pilot Gerry Fawke, who he had flown with previously in Lancasters, to convert to the Mosquito before joining 617 Squadron, where commanding officer Leonard Cheshire was perfecting low level target marking techniques. The squadron had four Mosquito crews dedicated to this new specialist role - soon to be known as the Pathfinders. An intense summer of successful missions followed with targets including the Juvisy marshalling yards, E-Boat and U-Boat pens, V rocket sites, the Tallboy attack on the Saumur rail tunnel and numerous operations in support of the D-Day landings. Reverting to flying 617 Squadron's Lancasters, Bennett and Fawke flew futher special missions including two against the Tirpitz. After completing his tour with 617 Squadron he was appointed station navigation officer at Woodhall Spa, the squadron's home base.

Flight Lieutenant DES CURTIS DFC
Joining the RAF in 1941 Des Curtis initially flew as a Wireless Operator/Gunner with 235 Squadron on Beaufighters before converting to Mosquitos as a Navigator. He helped form the highly secret 618 Squadron which ran in parallel to the famous 617 Squadron Dambusters. It was initially tasked with operations against the Tirpitz and, although these didn't come to pass, the low level precision strike skills learned were invaluable for the crews. Des and his trusted pilot Doug Turner went on to fly some 70 missions together including many low level and dangerous attacks on U-boat pens on the French coast and U-boats themselves.
On one notable mission the crew managed to sink the German submarine U-976. In a daring attack on March 25 1944, south west of St Nazaire on the Atlantic coast of France, they took out the submarine with a shell from their special 6lb Molins canon while evading anti-aircraft fire from minesweepers and shelling from the shore batteries. Many years later after the war Des became good friends with the U-boat commander.
In September 1944 they joined 248 Squadron Banff Strike Wing in Scotland and flew missions against shipping targets in Norway.

Des was awarded the DFC for his contributions, the citation reading: 'Flt Lt Curtis has taken part in many sorties where an exceptionally high standard of accurate navigation has been required and he has invariably located his objective, frequently in the face of very bad weather and darkness over the first two hours of many sorties.'
The original drawing, on archival quality toned paper with colour highlights, features a rocket armed RAF Mosquito FB.VI of the Banff Strike Wing flying low through a Norwegian fjord on an anti-shipping mission.
The professionally cut double mount includes metal RAF wings.
This mounted ensemble will fit into a generally available, standard size 12 x 10 inch ready made frame. Or alternatively you can order it already fitted into a frame. More info on framing options.

This signature ensemble comes with its own unique illustrated Certificate of Authenticity printed on high quality A4 card stock and signed by the artist.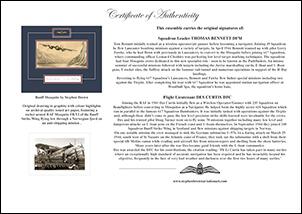 FREE - pack of 4 top quality aviation Christmas cards included.
12 x 10 inches (30 x 25 cm), approx 13.5 x 11.5 inches including frame.