An original Cameo pencil drawing by Stephen Brown of a 431 Squadron Spitfire mounted with the authentic autograph of legendary WW2 RAF Fighter Pilot Ace Johnnie Johnson.
Air Vice Marshal JAMES EDGAR 'JOHNNIE' JOHNSON DSO** DFC* CBE
A deadly Ace and mercurial leader, James 'Johnnie' Johnson was the highest scoring Western Allied fighter Ace flying against the German Luftwaffe in World War II. He is credited with 34 individual victories over enemy aircraft, as well as seven shared victories, three shared probables, 10 damaged, three shared damaged and one destroyed on the ground. He flew an incredible 700 operational sorties during the course of the conflict.
He joined the RAF in September 1939 but an old sporting injury ruled out any combat flying until 1941, meaning he missed taking part in the early campaigns including the Battle of Britain. In 1941 he began flying regularly and took part in the offensive sweeps over occupied Europe from 1941 to 1944. Johnson was almost continually involved in heavy aerial fighting during this period.
His first taste of operational flying early in 1941 was with 616 Squadron, which formed part of the famous Tangmere Wing. He often found himself flying alongside the legendary Wing Commander Douglas Bader. By 1942 he had himself been promoted to Wing Commander and took charge of No. 127 'Canadian' Wing where he proceeded to completely revise their combat tactics with great success. In 1944, now commanding No. 144 Wing, he led many missions in support of the D-Day landings, the Battle of Normandy, Operation Market Garden and the Battle of the Bulge. Johnnie scored his last victory in September 1944 but continued to fly combat missions to the last day of the war. He flew Spitfires exclusively during this period, starting with the Spitfire Mk Ia and progressing, as the aircraft developed, to the Mk IXB. 
Johnnie continued his career in the RAF after the war, serving in the Korean War during an exchange posting to the US Air Force in 1950. There he flew the Lockheed F-80 Shooting Star, and later flew the North American F-86 Sabres with US Air Force Tactical Air Command. Johnnie retired in 1966 with the rank of Air Vice Marshal.
The original drawing, on archival quality toned paper with colour highlights, features the Spitfire Mk. IX of Johnnie Johnson - 431 Squadron, 127 Canadian Wing flying from Belgium in December 1944.
The professionally cut double mount includes RAF wings on an engraved metal plate specially commissioned by ourselves.
This mounted ensemble will fit into a generally available, standard size 12 x 10 inch ready made frame. Or alternatively you can order it already fitted into a frame. More info on framing options.

This signature ensemble comes with its own unique illustrated Certificate of Authenticity printed on high quality A4 card stock and signed by the artist.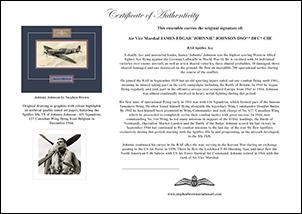 FREE - pack of 4 top quality aviation Christmas cards included.
12 x 10 inches (30 x 25 cm), approx 13.5 x 11.5 inches including frame.