An original Cameo pencil drawing by Stephen Brown of a British Airways Concorde mounted with the authentic autograph of distinguished Concorde pilot MIKE BANNISTER.
Chief Concorde Pilot MIKE BANNISTER
Mike Bannister joined BOAC, the predecessor to British Airways, in 1969 as a pilot and flight navigator on the Vickers VC10 fleet. He joined the British Airways crew of Concorde in 1977, becoming its youngest ever pilot at the age of only twenty eight. In his Concorde career Mike accumulated around 9,600 Concorde flight hours, almost 7,000 of which were supersonic - more than anyone else in history.
In 1995 he was promoted to Chief Pilot of the British Airways Concorde fleet, a post which he held until its withdrawal from service in 2003. In his long career with Concorde there were many highlights, including commanding the aircraft in formation with the Red Arrows as part of the Queens' Jubilee fly past on June 4th 2002. He also captained Concorde's commercial retirement flight from New York to London on 24 October 2003 and was part of the crew on the aircraft's very last flight when G-BOAF flew from Heathrow to her birthplace at Filton in Bristol, on November 6th 2003.
Since the retirement of Concorde, Mike has devoted much of his time and energy to raising significant funds for good causes. In addition he has used his vast experience to provide invaluable consultancy on airline management, operation, safety and security matters across a wide range of aircraft types and geographical locations.
The original drawing, on archival quality toned paper with colour highlights, features a British Airways Concorde coming in to land.
The professionally cut double mount includes a metal Concorde pin.
This mounted ensemble will fit into a generally available, standard size 12 x 10 inch ready made frame. Or alternatively you can order it already fitted into a frame. More info on framing options.

Please note - the 3D style of the Concorde pin has meant that this mount is deeper than normal at about 1 cm - bear this in mind if you are buying your own ready made frame for display.

This signature ensemble comes with its own unique illustrated Certificate of Authenticity printed on high quality A4 card stock and signed by the artist.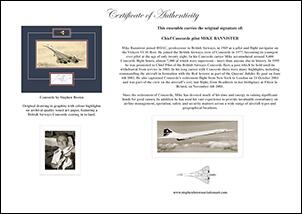 FREE - pack of 4 top quality aviation Christmas cards included.
12 x 10 inches (30 x 25 cm), approx 13.5 x 11.5 inches including frame.