An original Cameo pencil drawing by Stephen Brown of a Battle of Britain Hurricane mounted with the authentic autograph of distinguished WW2 RAF Fighter Pilot Ace Pete Brothers.
Air Commodore PETER BROTHERS CBE DSO DFC*
Pete Brothers first saw action during the Battle of Britain as a flight commander in 32 Squadron based at RAF Biggin Hill flying Hurricanes. The Battle of Britain was an intense time for Brothers; his first victory was a Bf109 and by the end of August 1940 he was officially recognised as an Ace, having shot down eight enemy aircraft. He was awarded the Distinguished Flying Cross on 13 September, the citation read: 'During an offensive patrol in August 1940, this officer's flight encountered about one hundred enemy aircraft. He led the flight in attack against them, but before this could be pressed home, he was himself attacked by a number of Messerschmitt 110's. Turning to meet them, he found himself in a stalled position; he spun out of it and immediately sighted and engaged a Dornier 215 which he shot down. Later in the day he destroyed a Messerschmitt 109. Altogether Flight Lieutenant Brothers has destroyed seven enemy aircraft. He has at all times displayed great courage and initiative'.
At the beginning of September 1940 32 Squadron was stood down due to the level of losses. On 9 September he was posted to 257 Squadron based at RAF Coltishall as a Flight Commander under the mercurial Squadron Leader Bob Stanford Tuck. He was promoted to Acting Squadron Leader and took command of 457 Squadron RAAF in June 1941, at which time he converted to the Spitfire. When 457 Squadron returned to Australia, Brothers took command of 602 Squadron. He became Wing Leader of the Tangmere Wing in October 1942. He was awarded a Bar to his DFC on 15 June 1943 and the DSO in 1944.
By 1945, Brothers had flown 875 operational hours and was credited with having shot down 16 enemy aircraft and damaging many more. After the war he spent time with the Colonial Service before rejoining the RAF to command 57 Squadron's Avro Lincoln bombers. By 1952 he was Wing Commander flying Vickers Valiants. He rose through senior ranks of the RAF before retiring in 1973. In 1964 he was awarded the CBE.
The original drawing, on archival quality toned paper with colour highlights, features an RAF Hurricane MK I in between sorties during the Battle of Britain, summer of 1940.
The professionally cut double mount includes RAF wings on an engraved metal plate specially commissioned by ourselves.
This mounted ensemble will fit into a generally available, standard size 12 x 10 inch ready made frame. Or alternatively you can order it already fitted into a frame. More info on framing options.

This signature ensemble comes with its own unique illustrated Certificate of Authenticity printed on high quality A4 card stock and signed by the artist.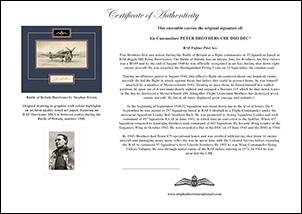 FREE - pack of 4 top quality aviation Christmas cards included.
12 x 10 inches (30 x 25 cm), approx 13.5 x 11.5 inches including frame.