Quiet Moments by Stephen Brown features de Havilland Mosquito B. Mk. IVs of 139 Squadron, No. 2 Group, flying from RAF Marham in the autumn of 1943.
The battle-hardened Mosquito crew get a few brief moments of respite allowing them to take in the wild beauty of the Norfolk Broads. The Mosquito was a daring concept: an unarmed bomber made mainly of wood and relying on pure speed for defence against the might of the Luftwaffe. It proved to be immensely successful and the versatility of its design allowed it to be adapted to many roles including night fighter, anti-shipping, high altitude intruder, bomber support, Pathfinder duties, reconnaissance and even aircraft carrier operations.
95 Limited Edition - signed by the artist only
20 Artist Proofs with 2 signature Companion Print
10 Remarques with 2 signature Companion Print - SOLD OUT
15 Canvas Edition - SOLD OUT
All prints are signed and numbered by the artist. The Artist Proofs and Remarques include a Companion Print which is signed by two distinguished Mosquito pilots:
Flt. Lt. Ted Dunford DFC
Mosquitos of 608 Squadron, Light Night Striking Force.
Flt. Lt. Tom Bennett DFM
49 Squadron Lancasters and then 617 Squadron Pathfinder Mosquitos.
The Artist Proofs come with the matching numbered companion print 'Dawn to Dusk' that features Mosquito B Mk. IVs of 139 Squadron returning to the sanctuary of their base after another long combat mission.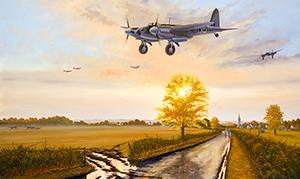 This print can be supplied mounted or mounted and framed, please contact us for details.
37 x 17 inches overall, image 30 x 10 inches. Companion Print 16.5 X 12 inches overall.