Winter on the Front Line by Stephen Brown features Hawker Typhoons of 609 Squadron, 2nd TAF at a temporary airfield in Northern Europe, December 1944.
From D-Day onwards, as the Allies marched relentlessly eastwards, the squadrons of the 2nd TAF moved with them, hopping from one temporary airfield to the next, always as close to the front line as possible. The robust Typhoons and Tempests of the RAF were ideally suited to the hazardous ground attack role that was so vital in paving the way for troop and armour advances. The winter of 1944-45 was severe and tested aircraft and ground crew to their limits.
95 Limited Edition - signed by the artist only
15 Artist Proofs with pilot signed Companion Print - SOLD OUT
The Artist Proofs come with the matching numbered companion print 'Typhoons Over Normandy' that features RAF Hawker Typhoon Mk IBs of 609 Squadron on a ground attack mission over Northern France. Below them the late afternoon sun bathes Mont-St-Michael at low tide. The leader and his wingman have spotted a potential target and are descending low and fast for a better look. In the distance two more 609 Typhoons will hold station and watch out for an ambush by enemy aircraft.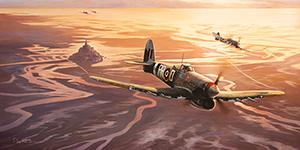 The Artist Proof companion prints, 'Typhoons Over Normandy' are signed by distinguished Typhoon pilot:
Flying Officer Frank Wheeler DFC.

This print can be supplied mounted or mounted and framed, please contact us for details. 
35 x 17 inches overall, image 29 x 10 inches. Companion Print 16.5 x 10 inches overall.